Togolese football icon Emmanuel Adebayor joined other African stars recently for a charity football match. Emmanuel Adebayor was invited to honourthe charity football match in the West African nation of Liberia. Other African football stars who were at the occasion include former Super Eagles skipper Austin 'JayJay' Okocha,KalushaBwalya, AsamoahGyan, ex-Senegalese national team star El-HadjiDioufand many more.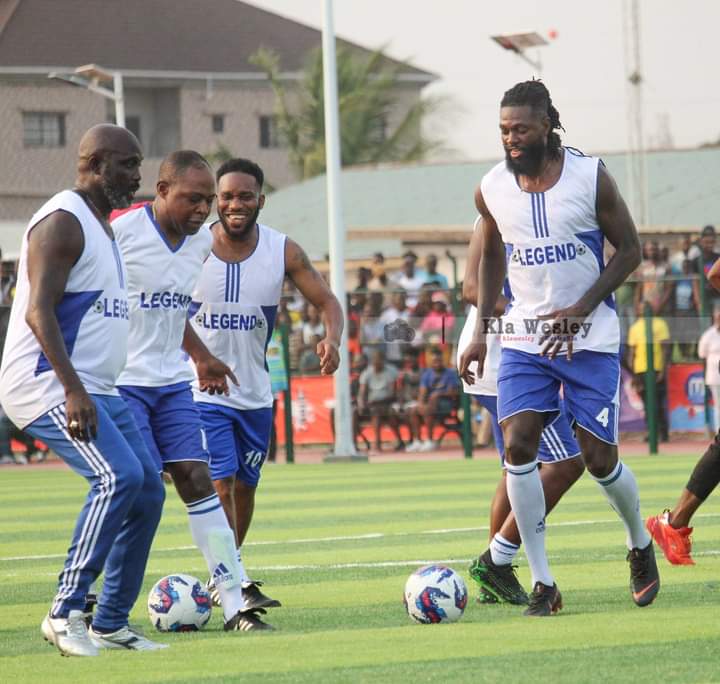 Emmanuel Adebayor and the aforementioned African stars were invited by fellow ex-footballer George Weah who's also the president of Liberia. They were invited for the commissioning of a new sports park known as The Invincibility Sports Park. The sports park was built by Weah and his government.
Adebayor, Okocha, Gyan and others were featured in the first match at the Invincibility Sports Park. The African legends won the game played at the new sports park against a Weah-led team via a 4-3 scoreline. It must also be pointed out that Australian football legend Tim Cahill was also part of the African legends team during the game.
Liberian president Weahis the brain behind the aforementioned sports park was the captain of his country's senior national team for several years before he called time on his professional football career. He represented a lot of teams in European football during his career. Weah played for West London giants Chelsea, seven-time European champions AC Milan, French champions Paris Saint Germain (PSG) and many more during an illustrious club career in Europe. Also, he became the first African player to win the FIFA Best Player Award when he won the accolade in 1995. No other African player has been able to replicate the feat since then. He became a politician on the back of his football career. Weah initially failed in his bid to become the Liberian president before he later succeeded.