Former Tottenham and Arsenal striker Emmanuel Adebayor is looking like a major doubt for the African Cup of Nations 2017.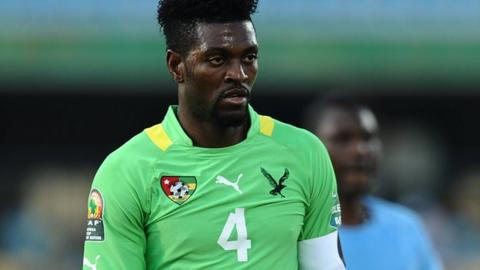 He was expected to be part of the Togo national team at this major tournament. However, his failure to find a club since leaving Crystal Palace is threatening to disrupt the plans of the Togo national team. Even though he is one of the top players available at the disposal of the national team, it is understood that the manager was extremely unhappy with the physical status of the player when he turned up for a decent practice session.
Adebayor has been without a club since leaving Crystal Palace back in June. Even though he is available on a free transfer, clubs have simply not been looking to take a punt on the player who has been at various clubs since 2012. He has played for the likes of Manchester city, Real Madrid, and Crystal Palace since leaving Arsenal in 2009. Not too long ago, he was one of the promising centre forwards in the Arsenal team and he was even ahead of Robin Van Persie in the pecking order once.

Several bad movesappears to have halted the career of a player who is still only 32. Adebayor has had a chequered history with the national team. He has featured in 66 games and scored 31 goals, but he has infuriated the Togo FA with his antics in the past.
"If I feel that I am not ready to go to the next African Cup of Nations, I will not … This is a national team and it must go to the African Cup of Nations with players who are fit and ready," said the striker, who has claimed that he will be in attendance for the tournament in January just to provide support to his teammates.