Former Arsenal, Tottenham, and Manchester City striker Emmanuel Adebayor has claimed that he may be on the verge of a return to the Premier league sooner rather than later, as there has been interest from the top division of English football.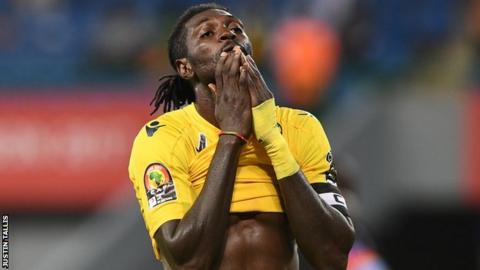 Adebayor has been one of the biggest disappointments from African football, despite his immense talent. The 32-year-old striker was brought to Arsenal by Arsene Wenger, who had high hopes for the striker. He did score a lot of goals towards the end of his Arsenal career, but a fallout with the club led to the move to Manchester City.
Since then, he has never hit top form consistently. If that was one thing consistent about Adebayor, it was his constant falling out with clubs, fans, and even managers. In the last five years, the striker has represented Manchester City, Real Madrid, Tottenham, and Crystal Palace with varying degrees of success. He is now a free agent after being released from his contract at Crystal Palace.

The Togo striker has also had a similar history with the Togo national team, but he just represented them in the 2017 African Cup of Nations. Togo were recently eliminated from the competition in the group stages.
Adebayor claims that he is still passionate about football, but it remains to be seen if he finds a team to play before the end of this January window."I've had a few contacts (from English clubs). I love the Premier League.You guys know how much I love the Premier League, even though I'm not the most loved player in England. I have done it for the last 10 years in the Premier league.I cannot say it's easy but I have done a lot of work in the shadows to be (at the Nations Cup) and prove to everyone that I can still play football, that I still have football in me," said the striker.