Former Tottenham and Arsenal striker Emmanuel Adebayor has been able to agree a new contract with Turkish outfit IstanbulBaşakşehir.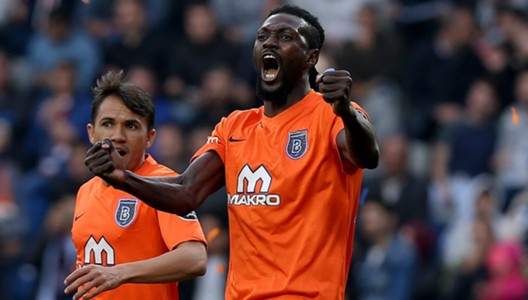 The 33-year-old has now signed a new contract that will keep him at the club for three more years. The forward has been one of the enigmatic names in football, as he has been unable to transform his talent on the pitch due to a number of fields spells. After spending most of his time in the English football with the likes of Arsenal, Tottenham, and Manchester City, the Togolese forward has been something of a journeyman in recent years.
The 33-year-old started his career with Metz before coming on to Monaco in 2003. Here, he gained a lot of prominence and this led to the switch to Arsenal in 2006. However, he spent only three years at the gunners before making a move to Manchester City where he spent another three years.
During this time, there were loans spells at the likes of Real Madrid. However, he spent furthermore years at the likes of Tottenham and Crystal Palace before coming toIstanbulBaşakşehir in the 2017 season. After joining as a free transfer, he had originally signed a contract with June 2018.
Now, he has been able to extend that contract after managing to impress the club with seven goals in just 16 games. "(I have) spent some very good months here in Istanbul. I couldn't ask for a better welcome and treatment from the Turkish population. I'm very excited to announce that we'll be extending our journey together. Special thanks to everyone that is part of the club for putting trust in me, looking forward to making history together in the next 3 years," said Adebayor after revealing the news about the new contract.Adebayor has never been able to spend more than three years at a club.